SafeLists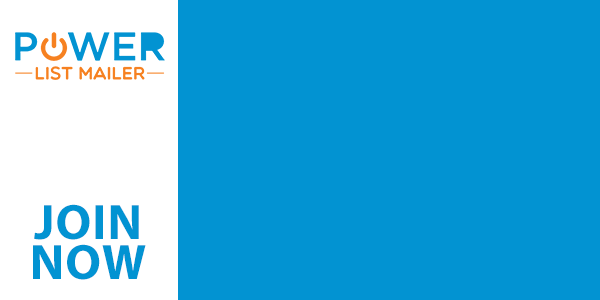 PowerListMailer Get A 10-Pack Of Free Solo Ads
Hey guys there is a really cool safe list mailer that just came out called the Power List Mailer. Get all kinds of great free perks when you join the mailer. Dave Mosher just brought this great mailer to life and already it is attracting a lot of attention. Over 2300 members have joined already and it's growing fast daily.
When you get a free membership you will be using the promo code welcome. This will give you free solo ads, HP solo ads, text ads and banner ads. But get this! If you also enter promo code newmember these free advertising bonuses will be doubled. Now if you have never heard of an hp solo ad it is an ad to Dave Moshers entire network. You will get ten of these super solos just for signing up FREE. Cool or what!
What makes Power List Mailer Great
When you join a free safe list it allows you to post free ads, perhaps once a day. But other members have the same right. There really is no incentive whatsoever for them to ever read your safe list ads!
Power List Mailer runs off of credits! You must have credits to post your ad to the list. The best way to get tons of free Power List Mailer credits is to read the emails from other members. It's a win-win situation. Get your ad read by thousands of other members. Those other members earn free credits for reading you ad. 
As the Power List grows your ads will be seen by all the new members reading ads to get credits. I might also ad that the mailer has templates so you can save your ads. Just click on the saved template and click send. No writing involved making it a snap to advertise free.
Also you can earn money.
Earn Money For Referring New Members
Earn Cash & Credits For Referring Members! Tell your friends about Power List Mailer, and get loads of free credits and cold hard cash! You can also have the option to get paid in Bitcoin. How cool is that. Earn up to 50% in Referral Commissions!
| | | |
| --- | --- | --- |
| Commissions | VIP | Elite |
| Purchase Commissions | 40% | 50% |
| OTO Commissions | 40% | 50% |
| Offer Commissions | 40% | 50% |
| List Mailer | VIP | El |
Safe List Strategies
In my opinion one of the best uses for using the safe lists is to build your teams. Many people use these mailers daily and they are quite popular. As as a matter of fact a lot of top internet marketers use them as a strategy to build their teams. For example using a great splash page can get you a ton of leads.
Don't think that just because a mailer is free it cannot be a powerful advertising tool. Of course upgrading in some of the good mailers is an advantage. After all who want's to click on email ads all day! Not Me. This is why Dave Mosher's mailers are unique. Sign up free and get hundreds of free credits if not thousands. Take advantage of this strategy and get this free advertising while you can.

Free Advertising Works
Free advertising on the internet does work. One has to use it in the right way for it to work. For example when you do post your ad on any mailer you should make sure your credits are high. Personally I like to get at least 1000 credits before I send a mail. This gives you more chances of getting leads on your splash pages.
Once you do get that lead it is always a good idea to get in touch with a personal email. A great marketing program like Prosperity Marketing is ideal for this. This program works great with the free mailers. It has a complete follow up system to complete sales for you on auto-pilot.
Your job is to get that splash page out there and the mailers are the way to do it. Maybe you prefer using traffic exchanges or even classifieds to get your ads seen. I have tried all three and have by far found the best success is with the mailers. They do work if you can find some good ones.
I thing you will enjoy the Power List Mailer. Not only is it a great mailer but once a member you will be introduced to the other safe lists that Dave Mosher has built. And he is still building them. Every one of them comes with the same double bonus signup. That is one giant amount of free advertising and you would be crazy not to take advantage while his empire grows.
Please follow and like us: