Hi there,
Now you can mail a ready built list to promote your sites and services and the best part about this new list builder it is absolutely free to use. The mailer is called Mail our list. No need of expensive auto responders and other such foolishness. You now can build your own list free or use the ready made proven buyer list that comes with your membership.
Did I mention that this mailer has been revamped by it's new owners World Traffic. They are promoting and growing fast and have some really cool advertising sites I will talk about at a later time. Meantime let's talk about my favorite one called Mail our List. I have been using this site for awhile now and it is one of my favorite mailers. Easy to use and you can mail daily. Cool or what! Of course you gotta click on some ads as per normal but not many and it only takes a minute to get tons of weekly free advertising to top internet marketers.
Yes, There is no need to spend ages struggling if you do not have a big list to mail. We have it covered.
Join Mail our list for free online advertising.
Click below right now, you can have your first mail going out in under 10 minutes and it will cost you
absolutely nothing.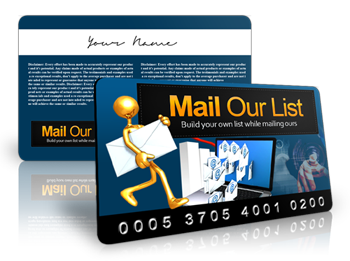 Safelist Advertising Perks
It is a well known fact in the internet world that the best or at least one of the best ways to advertise is through email marketing. Of course the goal is to build your own list and promote fabulous offers with huge margins. Now a lot of marketers on the internet including me find this quite a challenging endeavor. Forget the fact that building your own large mailing list takes forever it is also very expensive. A lot of fees come attached to have a professional responder.
Not only are the cost high you have to come up with eyepopping emails with products that are tantalizing. Also don't forget you are competing against trained professional email marketers with years of experience. This could be compared to jumping into a pool full of hungry sharks and hoping you'll make the swim to the other side. Good luck my friend.
A great alternative is to take a more different approach where the sharks are few and the costs are low even free. This path is called Safelist advertising and it is and easy and affordable way to advertise your business online and also make money instead of spending money using the built in lists that come with them.
A great way to build lists, advertise your business and get your name known.

Join Me at Mail our List
You are invited to come join me at Mail our List. You can make great commissions here also by promoting and building your own list. Not only can you mail your ever building own list you get to use their list which is growing daily.
Need A Big Email List To Mail To?
Not Making Enough Sales From Your List?

No Worries, Mail Our List While Building Yours!!! Increase Your Website Traffic & Signups For Free!
Mail Right Now – No Waiting For Your List To Grow!