There is a great new site out called Bags of Ads. You can promote your business with bags of ads all on one site. For only 5 dollars you can get a bag full of text ads, banner ads and also place your business on the traffic exchange.
Bags of Ads is easy to use and Steve Ayling has been around the advertising game for awhile. He has a lot of internet marketers joining this program. A Traffic Exchange with Advertising! Your Square Banners (125×125) are shown on all World Traffic Services Sites! Bags Of Ads is a Traffic Exchange with a twist.
When you purchase your first bag of ads you are upgraded from the standard free membership. You can then purchase 2 bags of ads and you are upgraded again etc… No Subscriptions! Check it out!
how it works
You Are A Free Member – Click On Buy Bags Of Ads To Level Up.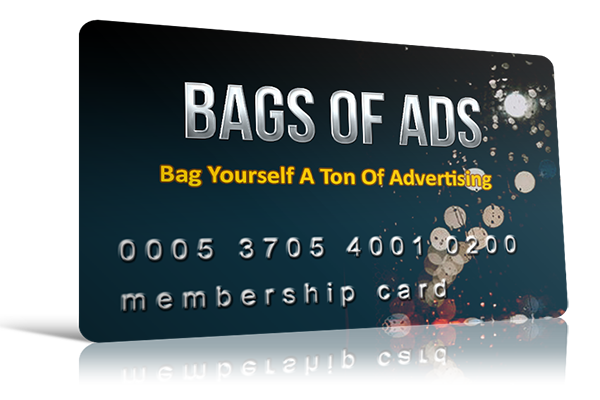 Welcome Back Brent
I would like to take a moment to explain how Bags Of Ads works. Bags of Ads is a cross between a banner and text ad site and a Traffic Exchange but it is set up a little differently.
Free members are able to add a website and then view ads (surf) to earn page views to have their ads shown but are unable to advertise banner and text link ads.
We have 5 levels of account upgrades which not only allow you to add banners and text links as well as more sites but also get you a better view/surf ratio and a Bag full of ads too.
The part that makes this different to other sites is that you level up one step at a time. To level up from free to level 1 then you need to purchase one bag of ads. Bags of ads are prices at just $5 each and include 500 page views, 2500 468×60 banner impressions, 2500 125×125 banner impressions and 2500 text link impressions. When you are at level one you can then level up to level two by buying two bags of ads, then to level three by buying three bags of ads and so on…
When you get to level 5 our top level you are then able to buy as many or as little BIG Bags Of Ads as you wish. Big bags contain twice as many ads as normal bags but are only available to level 5 members.
The chart below shows each level and what you get when you level up.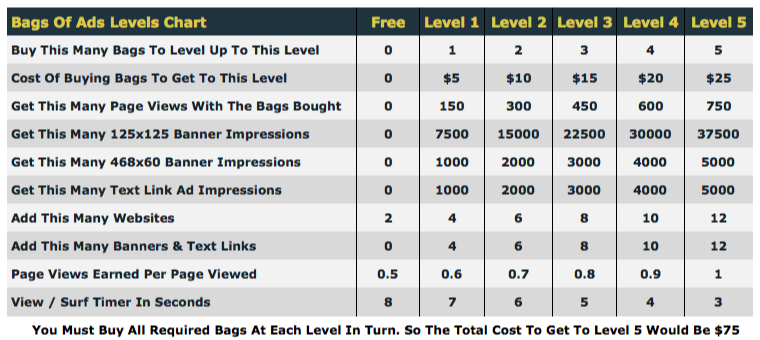 All purchases of Bags are one time payments (No subscriptions) so once you have leveled up you are upgraded for life!
Earn With Our Affiliate Program
You can buy bags of ads and level up for free by promoting us and using the affiliate commissions.
Grab the promotional tools and let as many people as you can know about Bags Of Ads and we will reward you with 30% Affiliate Commission for each bag of ads that someone you introduce buys.
You can then use those commissions to buy bags of ads yourself.
When you are at level 5 and you are introducing others you can use the earned commissions to buy BIG bag of ads. Keep promoting us for an endless supply of ads.
Add Your Sites, View Other Sites, Level Up & Promote Us..