Import your own List to List Genie AutoResponder
September 28, 2020
Now you can build or import your own list to List Genie AutoResponder.
It can be expensive to buy and maintain a monthly autoresponder. Now you can get one and even use it free. You will have to upgrade to import lists Monthly and Yearly Silver Members can import up to 500 subscribers per day. Monthly and Yearly Gold Members can import up to 1,000  subscribers per day. There are no limits on the number of organic subscribers that fill out your capture-page to Confirm Opt-In to your list. However, Monthly and Yearly Silver Members are limited to a Maximum of 25,000 Subscribers. Monthly and Yearly Gold Members are limited to a Maximum of 50,000 Subscribers.
You can now build your own list with your own autoresponder. Get forums and capture pages and write your own themes to get leads. Who doesn't want there own autoresponder. A handy tool to build and maintain a list and also make great commissions promoting it. New in the field of mailers and one of a kind for it's ability to advertise to all the members. Banners and Text Ads along with Solo ads can be displayed to the entire membership promoting your business.
You can even get one Solo Ad just by joining up as a free member by using the code newmember. This will also give you free banner advertising to all of the members.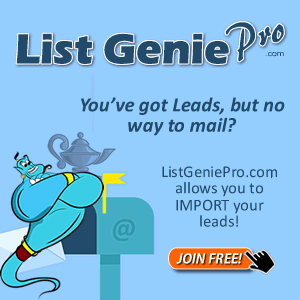 Autoresponder
Inside the back office you will find directions to easily set up your very own autoresponder. Once this is set up with your own well written forum capture pages you can promote them on the internet. Who doesn't want their very own autoresponder. It might not be like the big boys but hey your are getting this program for less than the cost of a big mac. Why not use it. It say's you are regulated into the lists you import but who is keeping tabs. If you have valid emails and are not going to get charged with spam import them to your list. We all know that once an email is opted in it is legal to send them emails without repercussions.
Say you have some programs you are promoting online. Legally you will be able to import all of these affiliates over to List Genie. This will have all your contacts on one list making it easy to promote new products to them.
List Genie is new but the Graphics alone should attract a lot of marketers who are interested in making money online. When you have a large list built up with self minded people who are interested in building a business online sales will follow. Check it out and sign up as a free member today and see all the cool features and tools that you can use to promote your business.
Opinion
Hey its Brent here alias the King of Traffic. I am always looking for new and cool tools for internet marketing and this a new and exciting tool you should get. This programs has so many cool features it is hard to name them all. Where else are you going to get your very own autoresponder that you can also promote banners and text ads. Also one really cool tool is the ability to send a solo ad to the entire membership.
Try this amazing tool out for free and get a ton of free advertising just for becoming a free member.
all the best
Brent
the King of Traffic